Sorry my first post of 2006 was so angry and bitter. I'll back up a bit and discuss my NYE plans: floor-producing MTV's New Year of Music. My first time working the show, and it was surprisingly fun and non-stressful.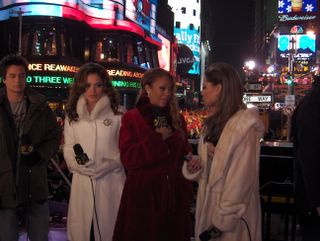 Around 9pm, the VJ's (plus special co-host Stephen from Laguna Beach) and I headed outside to tape the intro for the show. Unfortunately, just as we were ready to roll, P.O.D. started performing for one of the other shows shooting in Times Square. And we had to wait for them to finish to avoid having that horrific music in the background.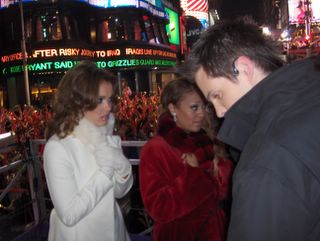 This is after P.O.D. launched into their 3rd song. You can see VJSusie and VJLaLa starting to get annoyed. Fortunately for us, P.O.D. is short on hits and soon thereafter ran out of songs to play.


Although I would never want to be one of the half-million jerkoffs standing in Times Square all night, it was actually pretty cool being able to walk past them and hang out above them. According to the cops, once the people on the street are placed into a particular section, they cannot leave at all. The crowd began to form in full force around 3pm. What do they do for food? And, more importantly, when they have to go to the bathroom?


Of the musical guests, I spent the most time with Fall Out Boy. They have a problem with cursing, so I had to constantly hold up a cue card saying "Don't Forget - No Swearing!" whenever they were on the air. They had a great time... although I'm sure they didn't appreciate Nelly calling them "The Fall Out Boys."

Overall, a memorable way to ring in the New Year. I hope everyone else enjoyed their celebrations. Best to you all this year!